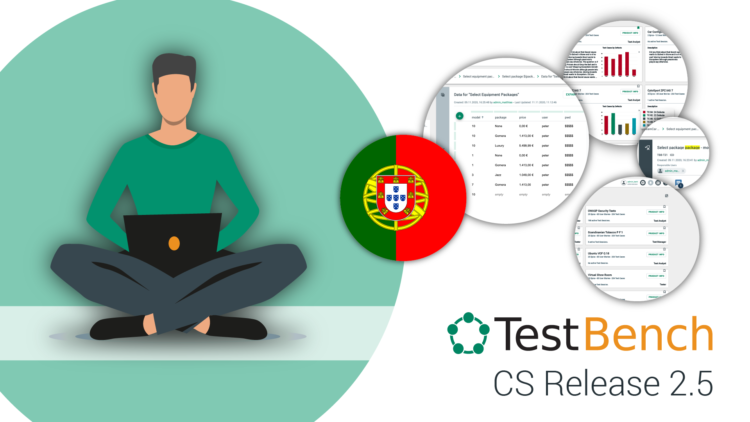 What's New in Release 2.5
Here is release 2.5 with new possibilities for data-driven testing, among other things.
Data-Driven Testing
Now you can work with concrete test cases in Test Suites, Test Runs, and Test Sessions. In Test Suites, you can group an individual selection of test cases. A Test Run assists you in the execution of the test cases within a Test Suite. And all the execution results are then recorded in Test Sessions.
You can now edit the column titles of your data tables even more comfortable. All changes are automatically adopted in the corresponding abstract test case.
Last but not least, some small improvements make the Data-Driven Testing Extension easier to use:
Replaced values in concrete test cases are highlighted in color.
Switch directly between the two side-by-side views of the data table.
Autocomplete for parameters.
Onboarding-Tours
You are not quite sure how to operate in TestBench? For this purpose, TestBench contains onboarding tours in which all essential elements and functions are briefly explained. The onboarding tour on the Home Screen starts automatically as soon as you enter it for the first time. All other tours can be started with a click on the tour icon. You can stop watching the tours or view them again at any time.
New Languages
We started with English; then, we added German and Spanish. And now: Nós falamos português!
The TestBench user interface is also available in Portuguese! This allows comfortable working for all those who simply feel more secure in their native language.
But we have accomplished even one more linguistic step. Our website is now also available in a German-language version. Have a look!
Product Home Screen
Create your personal dashboard and make Testbench YOUR TestBench! Release 2.5 brings new possibilities to personalize the Product Home Screen.  
You can now add more tiles to the Product Home Screen. If you need to, you can add single tiles for Test Sessions and Test Suites, which were previously combined on one tile. Sort the tiles so that the most important ones for your work are listed on top.
On the statistics tile, graphics for different statistics can be displayed. The Specifications tile has been redesigned, now you have more information, and with one click, you can decide what type of elements you want to see.
If you have configured the statistics tile on the Product Home Screen with a graphic, this graphic will also be displayed on the TestBench Home Screen. This way, you always have all the essential information immediately.
Tweaks to Safe Time And Work Coherent And Intuitive
… Safe Time
You can now assign existing bugs to test executions. This is useful if the same bug occurs in different test cases or a bug has not been fixed. If you enter the bug title, you can select from all the bugs which have, for example, the same keyword in the title.
The List View on the Specification Home Screen provides more information at a glance. It shows additional icons of all elements and their status in color.
You can start a chat directly out of an element's history. Click on the name of a user who has made changes and start a conversation.
The filter handling was optimized. Existing filters can now be updated more quickly and easily.
… Work Coherent and Intuitive
 Creating elements now works the same on all screens, even on the Planning Tile.