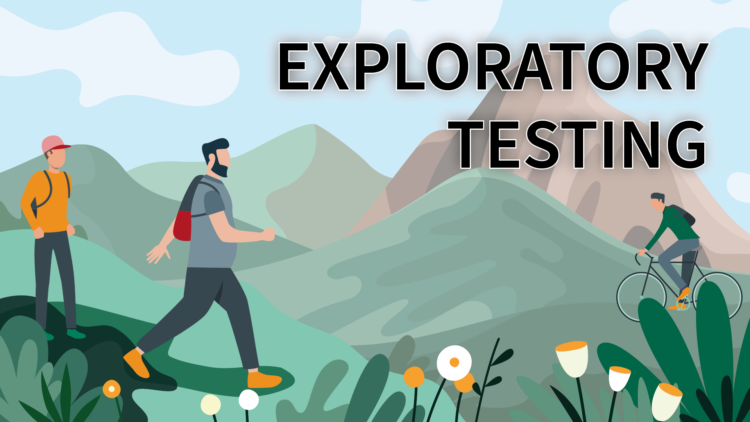 This Is How to Do It! Exploratory Testing in TestBench – Part Two
Use the creativity, experience, and intuition of software testers for exploratory testing. Part Two: Start exploring your product and review all findings.
Part Two: Start Exploring and Review Your Results
Exploring
During the actual test session, testers explore focussed on one of the charters they picked. Depending on the charter, a single charter may enough to keep you busy for the complete session.
Testers deserve to be given enough slack for their creativity. Let them know that they may stray left and right from whatever appears to be the path! You can tell them in a briefing or write it down in the mission.
While testers do their job, they create testing ideas, explore, and want to log their findings easily and quickly.
In TestBench, you have the choice of how to do that. First, we provide a shared space for all participants. We call it "Canvas". In the Canvas, you can select your charters, see who else is currently working in the Exploratory Test Session, you can see what charters OTHERS use, and you can even read their notes – if you want to know what they are up to, maybe to get inspired, or to avoid to do the same.
In the Canvas, you also see the clock and the mission. And you can take notes.
If this is more information than you need at the moment, and you just want to give as little space for notes as necessary, then our tiny µBENCH (read "micro bench") is what you want to use.
Both creation of new notes in Canvas and µBENCH can be started in the detailed view of a charter.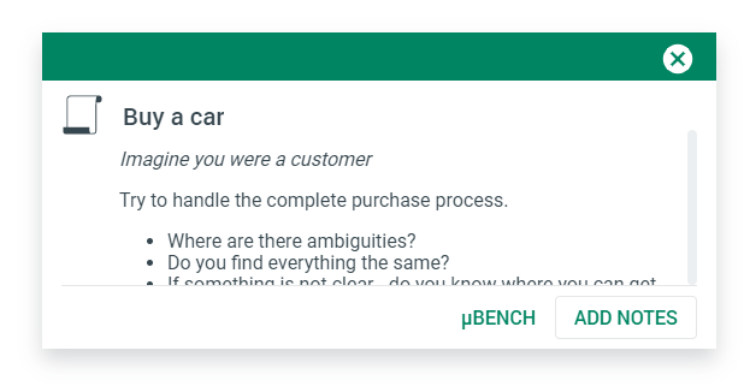 Using µBENCH, you can easily take a text note. Additionally, you have the choice to capture screenshots and videos to document your findings.

Concerning findings: During an Exploratory Test Session, it is not recommended to analyze findings – e.g., figure out if something is a bug or if it works as expected. If you did, you might lose focus. So just document what you find and leave the discussion for later. Anyway, you know how you feel about your finding, and to quickly document that, you can tag your note with one of the following tags: General note, (potential) test case, (potential) bug, praise, idea, question, and problem. My favorite tag is "praise"! Use it if you can!
Debriefing
So, we try not to analyze during exploration. Anyway, the notes need to be evaluated, and the gained knowledge needs to be shared with the team. That is what debriefing is for. As a team, gathered physically in a room or distributed spatially, virtually. If you can't meet in a place, all you need is a voice channel, as TestBench will provide all participants with an instantly updated view of all details for all notes in the main view for the exploratory test session.
You can walk through the notes in the sequence that suits you best – by the author of the notes, by tag (e.g., bugs first, the problems), or by charter.

Discuss the notes within the team; invite others, if necessary! Including stakeholders or your PO might be a good idea …
Together you decide how the findings should be treated. Small improvements to the notes can be made either by the session's organizer or by the author. And if you decide that a note outlines a test you want to use regularly, or if it describes a bug you want to track, you can create a test case or a regular defect with one click.
All notes remain available in your Exploratory Test Session for later reference, so everything is in its place and well documented.
How Do You Do Exploratory Testing?
So that is how we do exploratory testing and how TestBench supports us in doing it.
How do you do Exploratory Testing? Do you do it at all?
If your answer is "no", then why not? Just try it – it's worth the effort, and with TestBench, it's not only comfortable, but it's also fun!
Part One: This Is How to Do It! Exploratory Testing in TestBench
---